LOL
Velvet Hills' newest quartet
​
"Laugh out Loud" – "Lots of Love" - Just about anything goes! LOL is Velvet Hills' newest quartet. All four of us have experience with quarteting - some more than others.
Marjean (lead) has been a member of Velvet Hills for 30 years - 29 of which she sang with VLOC (Very Light Opera Company) - a fan favorite quartet for many years. Marjean began singing with her brother and mother at age 5. She worked for many years in retail, but has since moved to a more rewarding career in senior at-home healthcare.
LaNell (bass) is "experienced" in barbershop, as she is one of the charter members of Velvet Hills. She has over 30 years quarteting, with Snow Tones winning regional contest in 1966. She has held many chorus leadership roles, including Team Leader several times over. LaNell worked many years as an office manager for an Orthopedic Doctor group. She now loves spending time with her son, and his family.
Donna (tenor) is a barbershop brat - niece to LaNell, and daughter to Pat Tyree (Velvet Hills charter member) and Pete Tyree (barbershop quartet champion - The Orphans - 1954). Donna has worked in event coordination/fundraising - including many years with Disney. She loves to write and direct chorus productions. Donna has been in Velvet Hills for over 30 years. She has over 18 years quarteting- several with family members. She is excited to sing with her Aunt LaNell once again!
Cindy (baritone) has been singing with Velvet Hills for 15 years. She's our novice as she was in one quartet for a short time, until life moved one of the members away. She is very active in the chorus, while a part of the management team, and has worked with chorus make-up, costuming, and much more. Cindy works full time in high-tech, while balancing time with her family, church, and chorus.
We are having such fun singing together, and we'd love to sing for you. Contact:
cin.loo.whitt@gmail.com
---
---
Free Fallin'
Second Place in the Region 8 Quartet Competition - 2017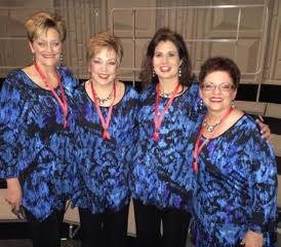 Free Fallin' is up and running, after a few stumbles, illnesses, new grandbabies, surgeries, etc., and are having a great time singing together - we've re-invented ourselves, added a great tenor this year, trying new songs AND clothes on for size and are excited for the coming year.
​
We have all 4 been in several very successful quartets over the years, live in Colorado Springs and Monument, can't believe we've waited this long to sing together, and can't wait to entertain!!! :) We are Robin on tenor, Andrea on bass, Laura on baritone, and Suzi on lead.
Contact: Andrea Hass at 719.290.7566
HassAJ@aol.com we'd love to sing for YOU!
---
---