---
Free Fallin'
Second Place in the Region 8 Quartet Competition - 2017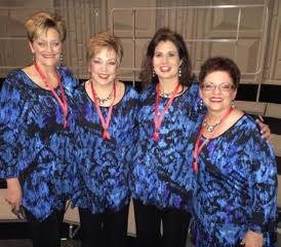 Free Fallin' is up and running, after a few stumbles, illnesses, new grandbabies, surgeries, etc., and are having a great time singing together - we've re-invented ourselves, added a great tenor this year, trying new songs AND clothes on for size and are excited for the coming year.
We have all 4 been in several very successful quartets over the years, live in Colorado Springs and Monument, can't believe we've waited this long to sing together, and can't wait to entertain!!! :) We are Robin on tenor, Andrea on bass, Laura on baritone, and Suzi on lead.
Contact: Andrea Hass at 719.290.7566
HassAJ@aol.com we'd love to sing for YOU!
---
---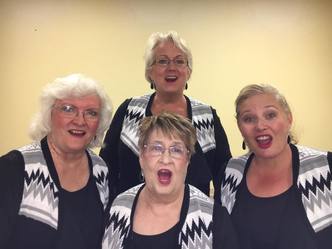 LOL
Velvet Hills' newest quartet
​"Laugh out Loud" – "Lots of Love" - Just about anything goes! LOL is Velvet Hills' newest quartet. We are Donna (Tenor), LaNell (bass), Marjean (Lead), and Cindy (Baritone). We all have experience with quarteting - some more than others.

​More info about us coming soon!
---